What prompted me to do research on the Grand Valley was a message I received from Robert Bucholz, a navigator with the 90th Bomb Squadron of the 3rd Bomb Group. This led to finding some incredible photos of the valley where The Gremlin Special went down on May 13, 1945. I hope you get a chance to read the book and hopefully enjoy the photos.

Hi Gerry,
I have to tell you about the newly published book I just finished. It is call Lost in Shangri-La by Mitchell Zuckoff.

http://www.mitchellzuckoff.com

I was in Port Moresby from about Sept 1 to 11/1'45. And about everything you have heard about New Guinea was TRUE.
And this book is a TRUE story.
Some Army Air Force pilots have found a section of land that looks well tended by somebody. In a subsequent flight with a full load of Army sightseers the pilots work their way through tough territory, weather, mountains, jungle etc. to get a another look at this unique spot in the middle of "unexplored" New Guinea. There is pilot error and they have to crash into the jungle. The description of this territory is superb.
Having flown through this same type of territory on missions we had no idea we were passing a Stone Age community of natives. Our prayer was that those 2 engines on that B-25 keep on ticking.
The rest of the book is great adventure telling about the struggle to get out of this dilemma.

I won't say anymore. This is a great New Guinea read. You will get a real feel of the scary land we flew over every so often.

Take care--hope all is well with one of the best websiters around.

Bob Bucholz Navigator 90th BS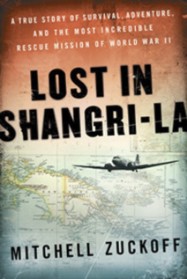 On May 13, twenty-four officers and enlisted men and women stationed on what was then Dutch New Guinea boarded a transport plane named the Gremlin Special for a sightseeing trip over "Shangri-La," a beautiful and mysterious valley surrounded by steep, jagged mountain peaks deep within the island's uncharted jungle.
But the pleasure tour became an unforgettable battle for survival when the plane crashed. Miraculously, three passengers survived – WAC Corporal Margaret Hastings, Lieutenant John McCollom, and Sergeant Kenneth Decker.
Emotionally devastated, badly injured, and vulnerable to disease, parasites, and poisonous snakes in the wet jungle climate, the trio was caught between man-eating headhunters and the enemy Japanese. With nothing to sustain them but a handful of candy and their own fortitude, they endured a harrowing trek down the mountainside – straight into a primitive tribe of superstitious natives who had never before seen a white man or woman.
Lost in Shangri-La recounts this incredible true-life adventure for the first time. A riveting work of narrative nonfiction that vividly brings to life an odyssey at times terrifying, enlightening, and comic, Lost in Shangri-La is a thrill ride from beginning to end.
Balim Valley or Grand Valley
The Baliem Valley, also spelled Balim Valley and sometimes known as the Grand Valley, of the highlands of Western New Guinea, is occupied by the Dani people. The main town in the valley is Wamena. The valley is about 80 km in length by 20 km in width and lies at an altitude of about 1,600-1,700 m, with a population of 100,000.
As far as the outside world was concerned, the discovery of the Baliem Valley and the unexpected presence of its large agricultural population was made by Richard Archbold's third zoological expedition to New Guinea in 1938. On 21 June an aerial reconnaissance flight southwards from Hollandia (now Jayapura) found what the expedition called the 'Grand Valley'. Since then the valley has gradually been opened up to a limited amount of tourism.
The following is copied from the back cover of Peter Matthiessen's book Under the Mountain Wall:
"In the Baliem Valley in Central New Guinea live the Kurelu, a Stone Age tribe that survived into the twentieth century. Peter Matthiessen visited the Kurelu with the Harvard-Peabody Expedition in 1961 and wrote Under the Mountain Wall as an account not of the expedition, but of the great warrior Weaklekek, the swineherd Tukum, U-mue and his family, and the boy Weake, killed in a surprise raid. Matthiessen observes these people in their timeless rhythm of work and play and war, of gardening and wood gathering, feasts and funerals, pig stealing and ambush. Drawing on his great skills as naturalist and novelist, Matthiessen offers a remarkable firsthand view of a lost culture in all its simplicity and violence — on the brink of incalculable change."
· Morse, R. (2000). Richard Archbold and the Archbold Biological Station. Gainesville: University Press of Florida. ISBN 0-8130-1761-0.
· Matthiesen, Peter (1962). Under the Mountain Wall. New York; London; Victoria; Toronto; Aukland; Harmondsworth, Middlesex, England: Penguin Books. ISBN 0-14-025270-3.
Source : Wikipedia

Below are images of the Balim or Grand Valley where the Mitchell Zuckoff book takes place.