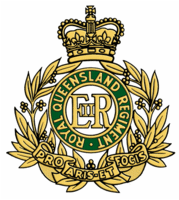 Company D 9 RQR Maryborough

Captured Japanese Flags
These flags were captured in the aftermath of the Battle of the Bismark Sea - March 3, 1943 from personnel on ships attacked by the 3rd Bomb Group

The story of how the Japanese flags at D Company 9RQR, Maryborough, were captured.
By Lex McAulay, Harumi Sakaguchi, Minami Yamada, and May Connell.
Two framed Japanese flags from World War 2 are in the main hall at D Company 9th Battalion, Royal Queensland Regiment (D/9RQR) at Maryborough.
On the flags are many inscriptions in Japanese and the names of five Australian soldiers – E. Cook, J. King, S. Haines, L. Bevan and H. Condie. Cook and King are noted as from Queensland and the other three from NSW. With the names is the detail of 'Goodenough Island, 10 March 1943'.
The date and location inscribed on the flags immediately indicate that the flags were captured in the aftermath of the Battle of the Bismarck Sea, which took place on 3 March 1943. Survivors of Japanese ships sunk in this battle came ashore on New Guinea and neighbouring islands. How the flags came into possession of D/9RQR is unknown.
Flags of this type were often given to departing soldiers as a good luck gift from friends, relatives, employers and communities.
On 28 February 1943 Convoy 81 of the Imperial Japanese forces set off from Rabaul to Lae, New Guinea. Aboard the eight transports and eight destroyers were units of the Japanese Army's 51st Division, with heavy weapons, vehicles, engineer stores, ammunition and aviation fuel. This convoy was vital to enable the Japanese forces to continue operations in New Guinea, where the Australian and US combat elements were exhausted after the campaigns on the Kokoda Track, at Buna-Gona and Milne Bay.
The strategic advantage was with the Japanese, who had further army forces to send to New Guinea, a good and experienced naval force and an adequate air arm to provide air cover for the ships. Since February 1942, after the capture of Rabaul, Japanese ships had delivered entire Army divisions and air units to New Guinea despite constant air attack by US and RAAF aircraft of all types, with few Japanese ships lost. Careful use of bad weather and night arrival times by the Japanese, plus the high level of combat experience of the Japanese naval forces, resulted in successful convoy operations by them.
One factor that assisted the Japanese was the habit of the US commanders of the Allied Air Forces (AAF) to send out aircraft as they were ready, which resulted in a series of attacks by small numbers of aircraft, often trying to cope with bad weather over the ships. This was in complete disregard for the Principle of War that states 'concentration of force'. The Japanese became expert in handling these small attacks separated by hours.
Despite constant claims of success by the AAF commanders, yet another successful Japanese convoy operation was completed in January 1943. Australian and US Army units in battle had reported meeting fresh, healthy, well-equipped Japanese troops since July 1942. Group Captain W.H. ('Bill') Garing DFC RAAF was an officer experienced in maritime operations who had continually tried to have the US senior officers concentrate a strike force. After the January convoy, whencareers were threatened, Garing's advice was accepted, and it was agreed to gather all available aircraft for one massive attack from different heights and different directions.
At first the weather on 28 February masked Convoy 81, but it was found by a US B-24 bomber when the bad weather forced the plane off the planned route. Some attacks were made by US heavy bombers and one transport was hit and sunk. The Japanese convoy commander, Admiral Kimura, made a fatal mistake. He sent the survivors of the sunken ship back to Rabaul and ordered the rest of the convoy to circle until the destroyers returned from Rabaul after delivering them. During this time the bad weather moved west.
The bad weather cleared and on the morning of 3 March 1943 the Japanese convoy was caught in the open sea, under clear skies. At 10 a.m. disaster struck as over 100 Allied aircraft attacked from all directions and different heights, overwhelming the ship defences. In less than ten minutes, the convoy was destroyed; all seven remaining transports and four destroyers were sunk or so badly damaged they sank later. Thousands of Japanese were left in barges, boats, on rafts or in the sea.
A US B-17 Flying Fortress had been shot down over the convoy and as the crew parachuted they were all killed by Japanese fighter pilots who machinegunned the helpless men. This infuriated the Allied aircrews and although the Japanese soldiers and sailors aboard the ships had not committed these murders, they were to pay for them. Aircraft re-armed and returned to the scene to bomb and strafe the men in barges, boats and on rafts. This went on for several days.
Meanwhile, on 3 March, a patrol of four RAAF Curtiss P-40 Kittyhawks from 75 Squadron RAAF took off from Milne Bay to cover Allied ships in that area, far from the convoy battle. Very bad weather over Milne Bay did not allow them to return to land, so they were told to go to Goodenough Island. This island had been captured by Australians late in 1942 and was developed as a site for airfields.
Three of the RAAF fighters made bad landings on the rough airstrip and the pilot of the fourth decided to try to land on a long sandy beach. He too ended up in the bush, above high tide level. This aircraft was Kittyhawk A29-149, flown by Pilot Officer W.J. Ward. All the aircraft were allotted to the local Repair and Salvage Unit, so it is assumed that they were beyond the technical expertise of 75 Squadron to remedy. The RAAF A50 form states that all four aircraft suffered 'major damage' which tends to be a result of wheels up landings.
47th Battalion, Australian Military Forces, had been sent to garrison Goodenough Island. Among the soldiers were Ted Cook and Jeff King, from Maryborough. Ted Cook was a big man, and well-known in Marybough for his achievements in sport, playing football, tennis, cricket and rowing.
Lance-Corporal Ted Cook and four other soldiers were sent to guard the 75 Squadron Kittyhawk on the beach. They had no knowledge of the Battle of the Bismarck Sea or that many Japanese aboard boats, barges and rafts were landing all along the northern coast of New Guinea and on the adjacent islands.
Minami Yamada belonged to the 8th Shipping Engineers Regiment, a unit that specialised in loading and unloading cargo, and was aboard 'Shin-ai Maru'. The ship received four direct hits and six near misses in the first six minutes of the attack. Eighteen crew, twenty-five anti-aircraft gunners and at least twenty soldiers were killed in the bombing. The ship drifted, on fire, and sank in the afternoon. Before that, Yamada went into the sea in a lifeboat with five other men; all around him were scenes of disaster. Then the aircraft returned and began strafing the boats, barges and rafts. Their boat was sunk, and the men floated in their life-jackets.
Minami Yamada drifted for three days, and was picked up by men in a wooden collapsible boat. He thought they belonged to an Engineers unit from Mito, Ibaragi Prefecture. They drifted some more, and reached an island later learned to be Goodenough. Yamada recalled that he and his comrades landed on the island in the afternoon of a fine day. He remembers the heat felt on the soles of his feet walking on the sand.
Ted Cook and the other Australians saw a boat coming, with men in it, and watched it beach about two kilometres away. Jeff King was part aboriginal and had dark skin, so he pretended to be a native of Goodenough Island who was fishing, and worked his way along the beach towards the strange boat.
He recognised the men as Japanese, and walked back to the Kittyhawk, still pretending to be fishing. Ted sent him and one other man back to headquarters to report.
At the next high tide the barge floated off the beach and moved along until it was near the Kittyhawk, when six of the men aboard waded to shore, but now Ted and the other two Aussies came out onto the beach.
Minami Yamada saw the crash-landed plane, but could not tell if it was Japanese or Australian, single-engine or double-engine. The Japanese thought the three Australians were the crew of the plane.
One Japanese officer, Saburo Sudo, could speak some English and called out not to shoot, and that the Japanese needed water. One Australian, presumably Ted Cook, told Lieutenant Sudo to go and sit down at a place he pointed to. Sudo did so.
Minami Yamada waded ashore and saw three Australian soldiers, in shorts, without shirts, but with automatics weapons approach, and then sit by the Japanese on the shore, with neither side showing hostility at this stage.
The Japanese were ordered to surrender personal belongings. Most common were flags. Yamada surrendered his flag plus an Omamori or a good luck charm. He had wrapped them around his belly.
What happened to Yamada's flag is not known, but the two at D/9RQR have had their inscriptions translated by Harumi Sakaguchi, in Japan. One flag originated from the Utsunomiya Branch Engineering Office of Tokyo Area Communication Bureau. The other was presented to the late Ichiro Komatsu, an employee of the Yokka-ichi Branch Office of the Sankyu Transport Company, which farewelled him with the gift of the flag.
The Japanese were asked their names. Yamada wrote his in Romanized Japanese on a piece of paper given to him. He used his real name, Yamada Masami, believing that he would be dead soon, so felt there was no need to fake his name. The Japanese write their names in reverse order to that used in the West – family name, then personal name.
Sudo, the Japanese officer able to speak English a little, asked the Australians what they were doing there, and was told they would go there to fish. Sudo asked for water and Ted Cook said he would show them a creek nearby.
Ted began to lead the Japanese towards a small creek along the beach. (Mr. Yamada recalls one of the Australians using a distinctly Japanese expression, "Koi" or "Come along! ") The Japanese followed the three Australians, some pulling the boat in the water. Yamada trailed the tallest, biggest Australian, who was walking first. This was Ted Cook.
Someone in the Japanese party suggested they attack and overpower the Australians, because there were twenty-two of them and only three Australians. Brief discussion followed.
Ted noticed that that Japanese had surrounded him, looked back and saw more around the other two men, and realised they were about to attack. Yamada heard someone shout, "Yattsukero! (Attack!)"
Yamada tackled the biggest and tallest Australian – Ted Cook - who was right in front of him, and tried to snatch his automatic weapon, which he could not, because Ted had his Owen sub-machine gun slung over his shoulder. Yamada grabbed it with both hands and Ted realised that precious seconds would be lost if he wrestled with the man, so hit Yamada with his steel helmet. Yamada collapsed – Ted put a lot of force into the blow - and Ted opened fire on the others.
Minami Yamada felt a blow on his head, lost consciousness and cannot recall clearly what happened to him.
The Japanese had seized the other two Aussies and were trying to drown them in the sea. One Japanese had grabbed a piece of wood used as an oar and hit one of the Australians with it.
Ted had only the ammunition in the magazine on the Owen gun, as other Japanese had grabbed the spare magazines poking from his back pocket, so fired single shots to save his two friends in the sea.
Just in time, other Australians led back by Jeff King arrived, the fighting stopped and the surviving Japanese surrendered. Eight Japanese were killed in the action, thirteen surrendered and one ran into the bush.
After some time, Yamada recovered consciousness, but found his hands were tied.
He saw an Australian with his head bandaged white. This almost certainly was Herbert Condie, who was treated at 4 Field Ambulance for a scalp wound to the right temple.
The Japanese were moved in groups of five or six, led by Australians and locals. The dead were buried at the location.
What Mr. Yamada called a 'pom-pom sen', a boat with a small engine came. All the Japanese boarded it and it went along the coast to a make-shift wharf where two or three trucks waited. The Japanese were taken onto the trucks, three or four men for each truck, along a mountain path wide enough for passage of trucks, to what Yamada thought was a field hospital - tents with the Red Cross. This was probably 4 Field Ambulance. No war diary for this unit for this time is in the records.
The Japanese, all naked, were given water, coffee and canned foods. Yamada did not want to eat any canned food. But, being dehydrated, he quickly drank two or three cups of water.
The Japanese spent the night at the medical unit. Next morning, they were woken before dawn. Their hands tied, the Japanese were taken by trucks through mountains to a port, from which they departed in a boat for Gili Gili on New Guinea, with an air field nearby. They were taken to tents and fed, then boarded another ship, which reached Port Moresby after a two day voyage.
While aboard ship to Port Moresby, one of the Japanese, skilled in those things, fabricated a rope sandal made from unknotting a piece of rope. The Australians were impressed by the practical Japanese ingenuity and asked him to make more sandals. Two or three members of the 13-man Japanese team engaged themselves in sandal making out of unbound rope brought by Australians. The boat's cook, given a pair of sandals, fed the Japanese well.
The thirteen captured on Goodenough in this small battle were interrogated and their reports are in the archives. Four of the men are remembered by Mr. Yamada. All survived the war. Yamada is 91 years old at time of writing, 2011.
Whether the captured flags were handed in to Australian higher headquarters and returned to the captors or not handed in at all is not known. However, presumably Ted Cook brought them back from the war and later they were framed and presented to the local army unit.
From Army records: News Sheet No. 33, 42 Australian Infantry Battalion, dated 12 March 1943, issued by the battalion Intelligence Section:
".....GOODENOUGH ISLAND. The latest reports indicate that the third group of Japs who landed 2 miles NORTH VIVIGANI numbered 22. When contacted, they offered some resistance. Nine were killed and 13 made prisoners. The POW includes a captain and a lieutenant. We suffered one minor casualty. ........16 Jap POW including 5 officers are expected to arrive in MILNE BY this morning from GOODENOUGH ISLAND."
From New Guinea, the prisoners were sent to Cowra. Mr. Yamada was assigned to Hut Group 8. The Group leader was a Zero pilot, Enji Kakimoto, who had been shot down by 75 Squadron RAAF and captured at Milne Bay. Another navy man would visit Kakimoto regularly. The navy men impressed Yamada with their "crisp" demeanor and speaking. Kakimoto looked after the men well. In the breakout, Kakimoto suicided by hanging.
After some time at Cowra, Yamada went to Murchison, from which camp he was repatriated to Japan.
Minami Yamada first served with the Independent 23rd Engineers Regiment in Manchuria. The Regiment joined the Japanese force attacking Singapore, and Yamada saw actions at Bataan and Corregidor in the Philippines. Yamada joined the 8th Shipping Engineers Regiment, which deployed to Kokopo, at Rabaul. In early 1943, Yamada left Kokopo on board one of twelve Daihatsu ships tasked to rescue the Japanese retreating from Guadalcanal. The Japanese, in terrible shape, were picked up by destroyers in two midnight rescue operations. Only four Daihatsu returned to Rabaul.
In 1953 a conflagration erased nearly 80% of 250 houses in Yamada's home area, where he was a deputy chief of a local unit of firefighters. He had no time to rescue his family's valuables, including many war-time records such as his photos in service.
Of the thirteen men captured, Mr. Yamada remembers four of them. The letters and numbers are their identity details in captivity: PWJA145476 Sudo, Saburo; PWJA145477 Suzuki, Seime; PWJA145486 Iida, Kenji; and PWJA145499 Ogino, Seiichi.
Post-war interviews in Australia.
At the Australian War Memorial, Canberra, on 7 August 2004 (AWM S03331), three former prisoners of war held at Cowra, 1942–1945, were interviewed by Terry Colhoun: MURAKAMI Teruo, TAKAHARA Marekuni and YAMADA Masayoshi.
TERRY COLHOUN: Gentlemen, thank you for coming to talk with us today. It is a privilege for us to meet you and we thank you in advance for sharing your experiences with us. This recording is for the official records of the Australian War Memorial. It is a very important part of our collection of the history of the Pacific War. I will ask questions and each of you may wish to answer, but if you do not just leave it to the others to say their piece and wait for the next question.
I would like to go back to the Second World War, to the Pacific War. I would like to ask you first what were you thinking when enemy forces came and captured you? Who would like to answer first?
YAMADA MASAYOSHI: After ten days of drifting in the sea I reached Goodenough Island and there met three Australian soldiers who were not wearing any shirts. They had automatic guns. I was not the only one who reached the islands. I wanted to get some water because at sea we didn't have any fresh water. We had one officer in our group so this officer asked for water. He was told that there was no water and to go over there. When we went to the place indicated we realised that this island was filled with the enemy. We then came back to the original site and then another three Australian soldiers came out with their weapons.
From this beach we could see some other islands in the distance. We wanted to move from this island to another island but we needed to have water. One of the Australian soldiers came along and said that he had some water. I think that was what he was indicating. There were 21 of us on the boat and most of us were quite weak. I was the one with the most strength so I went on to the beach. We could see a plane in the jungle and, because it was hidden, we thought the only Australians on the island were the crew of this plane. Well, so I followed the three Australians along the beach.
The sun was very hot under foot. Since we thought the only Australians on the island were the crew of the plane, we thought their numbers would be limited. On the other hand, there were about 20 of us, even though quite a lot of us were very weak. Everyone thought we could overpower the Australian soldiers so, after following them for some distance, the officer said "go ahead and attack". I tried to attack the Australian soldiers in front of us but, since we were on the sea for quite a long time, we just didn't have enough physical strength. Other Australian soldiers who were hiding in the jungle observed that we were weak and started to come out. There were about 15 of them and they were all armed. The Australian soldiers who came out started to shoot. I thought that if I let go of the Australian soldier in front of me to whom I was clinging, I would be shot dead, so I tried to hang on to the soldier because they wouldn't shoot him. But then I think I was hit on the back of the head by something hard. I lost consciousness and didn't know what was going on for a while. In a half-conscious state I realised that I was being pulled to a certain spot on the beach. All the Japanese soldiers were gathered there, and I was being carried. Eight of our soldiers died during this attack.
We thought we were about to be killed and wanted first to face Japan, that is north from that position. However, we were then put on a small boat which had arrived. At that stage we thought we would be shot and thrown into the sea. But the boat went around the headland and we saw two trucks and we were put on the back of those two trucks. We reached a hospital and there we were given water and a doctor came and had a look at us, and also we were given cigarettes and food. What I wanted then was water. I remember I had three cups of water and also a cup of coffee. Finally, I realized that I was still alive, and that my life would continue, but I still wondered what would happen next.
COLHOUN: Did you know that when you were captured the enemy soldiers were Australian?
YAMADA: Well, all the information I got was from an officer in our group who could speak some English. When we reached the island I told you there were three soldiers with no shirts. They told us to sit in a certain place, and the officer responded to them. So the officer went and sat down on the beach, on the sand, and then according to the officer those three said they were there to do some fishing and that they were from Australia. That's what the soldier told the officer, and that's how we knew they were Australians.
COLHOUN: I will come back to Mr YAMADA. I would like now to move to Mr MURAKAMI and ask the same question. When you were captured, what did you think was going to happen to you?
(The rest of the interviews were not relevant to the action on Goodenough Island.)
This exercise in solving the mystery of the flags began when Lex McAulay saw them on the wall in the D/9RQR depot and recognised them as from the Bismarck Sea battle, subject of one of his books. With permission of the D/9RQR commander, Major Kardean Pittard, Lex photographed the flags and sent the images to several historians.
In Japan, Harumi Sakaguchi located Mr. Yamada, interviewed him, and translated the information on the flags. In Australia, Lex contacted TV Channel 7 and was interviewed, which led to a phone call from May Connell, Ted Cook's niece, who had photos and news clippings. All Jeff King's belongings were lost in a house fire.
Herbert Condie, named on the flag, was traced to the Yatta Yatta area of NSW, near Milton, in the Bateman's Bay region, but at time of writing no information had been received from his surviving sister. The other two Australians could not be located.
This information is dated 2 May 2011.